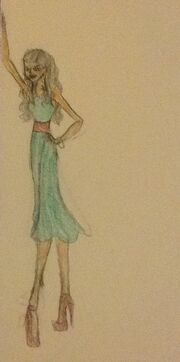 "Hawapti Kupigwa....Use Gurgle Translate... hahahaha"
"if you slow us down i will shoot you myslef"
Rayleigh is a very nice and sweet girl. She is brave and caring. Rayleigh thinks humans are cool but they arent as smart as angels. She said that they reject signs of when not to do something.
Rayleighs brother is James. They have a love-hate-love relationship. Rayleigh is the interigationer in the family. Rayleigh uses the power of Lie detecting. Rayleigh can also "read" a persons face and figure out everything she wants to now just by watching how their face twithces nd moces whenever she asks a question. Rayleigh uses this all of the time.
Rayleigh owns a McFeran 21 but is underaged and doesnt have a drivers license. She only drives that car when something really bad is happening. when she needs to do it she will mash on the gas,
(More info contains spoilers so....)
Rayleigh is a Elite angel. She has:
Super Speed*2
Lie detection
Reading faces
Sensing
Copying (If she sees something she can copy it perfectly)
Super strength
Flight
Relationships
Edit
Solomon
Solomon and Rayleigh are the best of cousins. They cooperate well and have a lot in common. From what we know Rayleigh and Solomon have been like this for a while.
James
James and Rayleigh have a love-hate-love realtinoship. Rayleigh and her brother disagree sometimes but will alwys be there for one another.
Ian
Ian and Rayleigh date for 3 years but Ian falls for Solomons sister Tori. Rayleighs heart was broken for a while  but she eventually got over it and married a man named Jamison and they had kids.
Rayleigh doesn't have any weapons
Features
Edit
Rayleigh has black hair and blue eyes.
James Trans is her brother. The entire Trans family line.
Community content is available under
CC-BY-SA
unless otherwise noted.