(Solomon talking to Ian) what is this? (Ian) That was a drop kick (Solomon) we need to train too (Ian) the rest of the team have been you can either get on board or get out of my way (Solomon) what you gon do kick me away you don't have that kind of strength (Ian) really Solomon? Nah I wouldn't hit you. I don't want you to break a nail. (Solomon) let's go pretty boy. (Ian drop kicks Solomon and Solomon flys 2 miles and is knocked out)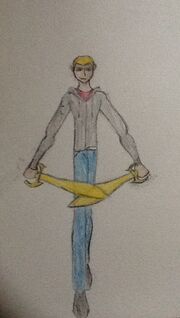 Not much is known about Ian Larson. He and his brother Jakob tend to keep to themselves. They are extremely powerful and are apart of the elite ones. Ian and his team show up during the first fight where Solomon was not home but was searching for other angels. Ian works out on a regular and has a fierce attitude. He doesn't care if you don't wanna do what is asked as long as it doesn't affect him. He pushes his team to be the very best and can be tough at times. When Ian and Solomon are at Ian's camp they don't get along. Ian messes around with Solomon and starts liking his cousin to get on his nerves. In the end Ian does fall for Solomon's cousin Rayleigh and she shows feelings for him. The aren't really family. They do have the family line powers of David Trans. Gradually the Trans family and The Larsons become friends and eventually family members but it is hidden by all of their arguing. Hey work together in the following books. (Other information contains major spoilers so...)
Ian has:
Super strength
Light constructs
Skilled hand-to-hand combatant
Super speed
Flight
Super speed
Leadership skills
relationships (friendships and actual relationships)
Edit
Rayleigh Trans
Ian and Rayleigh end up having a real relationship.
Solomon Cobbs
These 2 have a friend-enemy relationship. They help each other out when it comes to it. They are more friends than enemies. Solomon eventually becomes his brother.
Jakob Larson
Jakob and Ian are brothers.
Tori Cobbs Ian marries Solomon's sister Tori and they have 3 kids.
Ian's main weapons are 2 light swords but he can make any weapon using his light construct ability.
The entire Larson family and eventually the Trans family.
Community content is available under
CC-BY-SA
unless otherwise noted.